Assalamualaikum
The 'low' of today was the devastating video of the tsunami flooding, the flood of flu in which I am still woefully drowned, and the MS class which was held today, because of the upcoming match on Saturday (it was originally scheduled for Saturday). Like we're going to win, but you never know. Dil jalaain to sub saath mil kay jalaain, right.
Anyway, the class today :(. Lemme walk you through it. [why? You may wonder.. simply so ... 'exclaim karain to saath mil kay karain'] :'(
So it had all started off rather innocently. Advanced Parallel Programming? Interesting! I was so excited. Maybe we're finally going to learn programming of real parallel systems. Me and my excited-about-coding thoughts.
None of that happened.
What happened instead was... that we're stuck (for 3 lectures now) on Communication Models and Implementations... which essentially means that if you have a quad-core machine, the four processors nestled inside your motherboard obviously can't stay still. They have got to jabber to each other. And jabber they will - in peculiar patterns. Patterns YOU decide. Jabber they will... at particular times.... times YOU decide. Jabber they will - in peculiar ways... ways YOU come up with.
So let your imagination run wild and come up with horrific ways of having your processors chatter (I mean communicate) with each other. And you'll come up with these kinda imagery.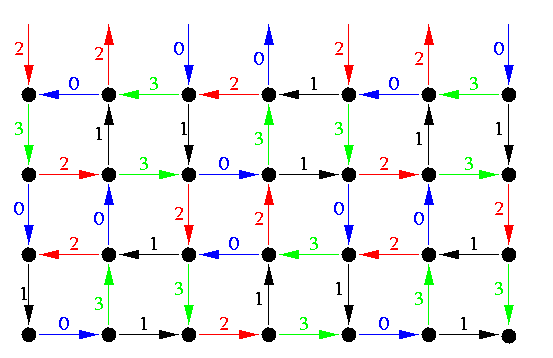 And if you're ever nerdy enough to think that hey, this looks easy ...two dimensions yay.
So ha! Take a look at this. Your multi-core system might be sustaining processors connected in THIS way:
Sir started off with a super simple example of a broadcast - e.g a radio - one sender .. and multiple receivers. Eaassy peaasy.
The easiness peasiness disappears the moment you begin learning about: one to all broadcast - all to one reduction.... all to all broadcast... all to all reduction.... all to all personalized broadcast....all to all personalized reduction......and it goes on and on! All of them are very subtly different from one another.
My mind was in a circular shift, by the end of the show. I mean, class. Even the teacher looked exhausted. And complained that it's 'lack of interest' that's making our faces 'long' ...
I am fascinated by the challenge. Laikin samajh to ayy!! :@
Oh, yeah. Saw the title of the post and remembered the 'high' -
Finally got my jee rrr eee account unlocked and saw my percentiles
:D. 98 in verbal and 94 in quantitative. And a 5.0 in analytical (er, highest is 6 so this could have been improved sure).
But anyway, Alhamdulillah :)